Community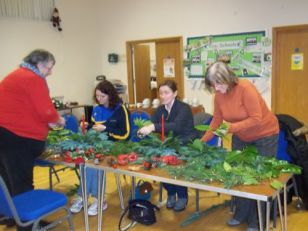 Flower Arranging
St. Mary's PS is located in the rural community of Carland, near Dungannon in County Tyrone. The school is at the centre of a thriving community, priding itself on working very closely with parents, the local Church and others to provide quality educational experiences for the children.
The school is seen as an integral and dynamic part of the community, with close ties and collaboration with the immediate Carland community, the Donaghmore Parish and neighbouring primary and post-primary schools.
The Role of Parents
We recognise parents as the prime educators of their child and value their role in supporting them. We encourage a partnership approach between home, school and parish for the benefit of our children. In order to achieve this, we strive to involve parents and families through a variety of information evenings, programmes, events and activities throughout each school year and we continually reach out into the community, inviting individuals and groups to support the life and work of the school.
As well as formal meetings with parents, e.g. the annual progress meeting each Autumn term, parents are also actively encouraged to come and talk to us at any arranged time should they wish to discuss any matter. The school has a long tradition of close contact with parents and values greatly their contribution to enrich the life of the school.
St. Mary's PS Parent Support Group
As a parent of a pupil at St. Mary's PS, you are automatically welcomed as a member of the Parent Support Group (PSG). Throughout the year there are many social, fundraising and education-related activities for you to support, attend and take part in. An enthusiastic, dynamic committee meets once per term to organise fundraising events.
Previous PSG events have included the annual Sponsored Walk, Christmas Fair, Family Bingo and Quiz Night. All money raised goes towards enhancing the school's provision across the curriculum, benefiting all children in the school.
New members are always welcome. Contact the Chair of the Parent Support Group, Mrs Paula McStravog, for more information.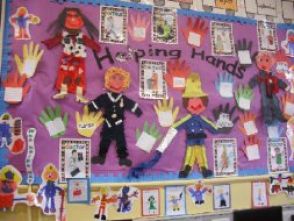 St. Mary's Primary School, 16 Lisnagowan Rd, Carland,Dungannon, County Tyrone, Northern Ireland BT70 3LH Phone: 028 8776 1515 | Email: info@stmarys.lisbuoy.ni.sch.uk