Welcome!
Thank you for visiting our website. Here you will see and read about the many exciting things that take place in our school.
Should you wish to find out more about the school, please feel free to make an appointment and I will be delighted to show you around.
Mrs Martina Martin
PRINCIPAL
Find out more about enrolling in St. Mary's PS
P6-7 in the Mid Ulster Schools Together Project
Junior Entrepreneur's 2019 present Chatterboxes!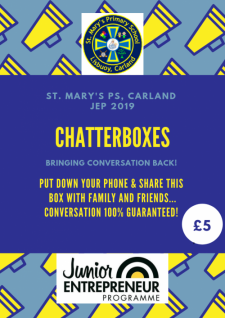 St. Mary's Primary School, Carland Junior Entrepreneur's 2019 are proud to announce the launch of their brand new product, 'Chatterboxes.'
This product is an accumulation of months of hard work from the Primary 7 pupils who have been participating in the Junior Entrepreneur Programme. JEP is a real life entrepreneurship skills programme for primary school children. It nurtures independence, creativity and problem solving and engages pupils of all abilities, helping them to appreciate their own unique skills and to successfully create a real business through teamwork.
The pupils decided on their final product after pitching their ideas to 'The Dragons,' in true Dragon's Den style. Chatterboxes was seen as a clear winner, owing to its relevance and appeal to all ages.
A P7 pupils explains, 'We saw an increasing problem of phones and tablets being overused in our homes and when we were out and about. People can no longer talk to each other. We decided to design conversation cards – to bring the art of conversation back.'
'The conversation cards were a lot of fun to make, we had a great time testing them out and deciding on our favourites. I think they will be great fun around the dinner table or if you were out in a restaurant, instead of sitting on a phone or device. They will definitely bring a smile to your face!'
Chatterboxes would be a great addition to any family home or local restaurant or café, where people gather together socially. To find out more contact the school office, 02885567515.
Latest Photographs
Well done to our 'Stars of the Month P1-P7!'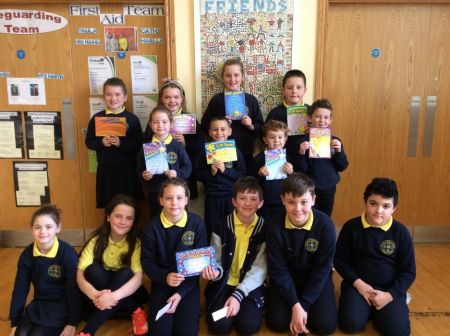 PERSONAL ACHIEVEMENTS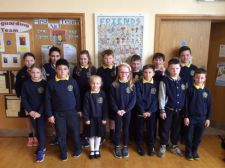 Every month we celebrate our pupils' success and achievements outside of school.
What a talented bunch of children we have at St. Marys!
St. Mary's Primary School, 16 Lisnagowan Rd, Carland,Dungannon, County Tyrone, Northern Ireland BT70 3LH Phone: 028 8776 1515 | Email: info@stmarys.lisbuoy.ni.sch.uk