RECYCLING TALK
4th Nov 2014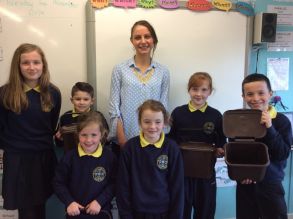 The Recycling Officer from Dungannon District Council came into school this morning to talk to the children about recycling. The children viewed a powerpoint full of interesting information and facts about the recycling of different products and where it takes place. They found it very fascinating to hear that the biggest landfill site is in the middle of the ocean!
Judith spoke about the importance of the 3 R's (Reduce, Reuse, Recycle) and gave the children a quiz on what to put in the blue, black and brown bin. She also provided the school with food caddy bins for each classroom and the staffroom, which will allow us to recycle our food waste and fill the compost bin.
FACT - RECYCLING 1 ALUMINIUM CAN COULD SAVE ENOUGH ENERGY TO RUN A TV FOR 3 HOURS!